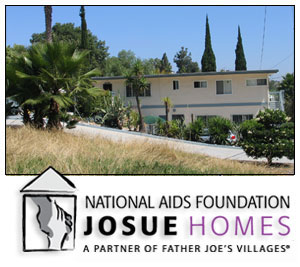 Residents typically stay for up to 18 months while working on a transition plan. Plan goals might include conquering an addiction, returning to a healthy weight, preparing for a career or obtaining government assistance.
Residents of Josue Homes enjoy access to transportation, mail service, recreation and a referral network to outside care providers. The staff helps those with little or no income to locate financial assistance or medical benefits so they can move toward independent living.
Residents may also take advantage of the many rehabilitative services offered through Father Joe's Villages. These include counseling, medical and dental care, employment guidance, and in-house 12-step programs that address addiction problems.
At Josue Homes, we enable hundreds of men and women living with HIV and to AIDS to put their lives back together. We help them reconcile with their families, regain their health and move into permanent housing.