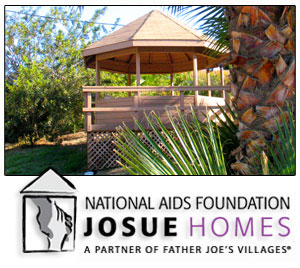 In 1981, a new scourge arose on the frontlines of public health. It brought with it not only poorly understood suffering and death, but also stigmas that would denigrate and marginalize already misunderstood segments of the population. Rumors ran rampant, victims were shunned. HIV/AIDS forever changed the discourse of public health in this country and around the world. Like the medical advances used to combat it, tolerance and understanding of the disease have come a long way in the last 30 years. But we still have a long way to go.
Father Joe's Villages has been there since the beginning. When so many members of the community were afraid even to shake the hand of someone living with HIV/AIDS, we were welcoming them with open arms. Since 1988, Josue Homes has been among the vanguard of service providers for San Diegans who are homeless and HIV-positive. A partner agency of Father Joe's Villages, Josue Homes is the county's first and largest non-hospice care provider for people living with HIV/AIDS.
In the beginning, the program offered people with AIDS hospice services to help them die with dignity. Now, with the advent of new medicines and new understanding, it prepares them for life, providing them the respite they need to reorganize their lives.